Get Top Dollar For Your Scrap Metal
At ProTrade Steel, we have three scrap metal recycling centers operated by our subsidiaries, Toledo Shredding and RJ Recycling. Each of the scrap yards can process nearly any recyclable metal through shearing, torching, baling, cast breaking and shredding (Toledo only).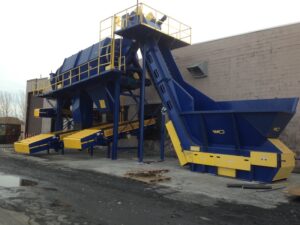 The following types of scrap metal are eligible to be recycled at our facilities:
Ferrous metal
Nonferrous metal
Alloyed metal
The ProTrade Steel scrap metal recycling team has the experience and relationships to ensure you are paid top dollar for your material.
Toledo Metal Recycling is a full-service scrap metal processing facility in Toledo, OH, capable of handling all grades of ferrous, nonferrous, and alloyed commodities for the Ohio, Michigan, and Indiana markets. Located near the Toledo Lucas County Port Authority, Toledo Shredding is easily accessible by the I-75/I-280 highway system, which sits in a select "heavy haul" zone that allows larger truck load processing and shipping of scrap metal.
RJ Recycling is a leading ferrous, nonferrous, and alloyed scrap metal processor in Central West Virginia with two distinct and strategically located facilities in Nitro and Parkersburg. RJ Recycling primarily recycles scrap metal from industrial accounts (including on-site demolition cleanup), other scrap and salvage yards, and the general public.
Our Scrap Metal Recycling Centers
Ready to recycle your unwanted scrap metal for cold, hard cash? Take the first step, and contact our scrap metal recycling center nearest you today.
Recycling
RJ Recycling
300 Kanawha Ave.
Nitro, WV 25143
Phone: (304) 727-8251