Connecting Scrap Metal Buyers & Sellers
Powered by strong national and international trading relationships we've built over the years, our trading arm of ProTrade Steel prides itself on its reputation as a truly independent scrap metal brokerage firm. Our expert traders are capable of sourcing the metal you need and selling the metal you have.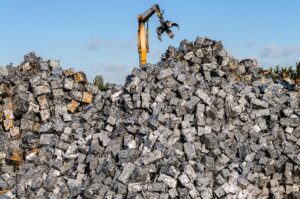 Our scrap metal brokers are committed to maximizing value for our customers:
Higher prices for sellers
Lower prices for buyers
Reduced transportation costs
Lead by our Owners, President and board members with a combined 160 years of experience in scrap trading, management, transportation, finance, and international commerce, ProTrade Steel knows how to put our customer's needs first.
By prioritizing our relationships with both customers and industry contacts, we're able to offer the best scrap metal solutions to suppliers and consumers alike. Our domestic scrap metal transport services also allow us to take things a step further, ensuring that all commodities bought or sold can be reliably and cost-effectively transported to their destination via truck, rail, barge, or container.Our exporting team helps to meet our international customers' needs moving scrap all across the world.
At ProTrade Steel, we work tirelessly to maintain our trusted trading presence by learning from our experience and staying connected within our industry. This allows us to provide the highest-quality information, customer service, and price to every one of our customers. Whether you're located in the US or across the world, we can help bring value to your scrap metal requirements.
Contact a Scrap Metal Trading Office
Our strategically located trading offices serve different and distinct steel and scrap metal markets, capitalizing on regional supply and demand variables including fluctuating freight patterns and both domestic and export scrap flow.
Trading Offices
Mid-Atlantic Office
Charlottesville, VA
(330) 655-3970
Northeast Office
Concord, NH
(330) 655-3970
Midwest Office
Liberty Center, OH
(330) 655-3970
Southwest Office
Austin, TX
(330) 655-3970
International Export Office
Charlottesville, VA
(804) 353-4099